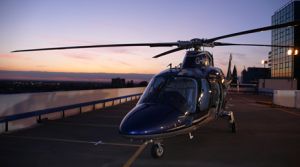 Speed and Style
Amadeus Aviation - Helicopter Charter and Private Helicopter Hire UK.
The Agusta 109, a twin-engined, instrument rated Ferrari of the sky! So, while you speed to your destination, you can relax in the beautiful interiors of our sleek machines, where you will enjoy the complimentary champagne bar in air-conditioned luxury. Hire a private helicopter for bespoke helicopter flights. We can carry six passengers on shorter trips, or four passengers on longer journeys. The boot can take four suitcases or six small overnight bags.
A Grand Day Out

Fly with a private hire helicopter to restaurants for lunch, horse races, polo matches, football matches, festivals, weddings or virtually any event across the country. If there isn't an obvious landing site, we will find one nearby for you. If you don't have a venue, we can even suggest one!
Overnight Luxury
Book a helicopterto visit a country house hotel for a weekend and we will often park your helicopter right there on the lawn for the night. For longer stays we probably will fly back to base and return for you.
Shoot to the Top
The shooting season is a busy time for private helicopter hire. Flying to remote shoots in dark winter weather, you need the security of instrument rated pilot and machine. We arrange a lighting team with radio to recce the site and talk the pilot in. The ground crew will also have a fuel bowser, saving the need to stop enroute.