RotorMotion was formed in 1997 with just one Agusta 109, we now operate four of them, making us the biggest Agusta charter operator in Europe. We understand our clients need for a swift response to enquiries, discretion and a reliable, safe, smart service.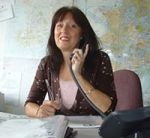 Operations are run by Sue Spencer, assisted by Declan and Sally. There is 24 hour coverage to calls using diverted mobiles, however we cannot mobilize helicopters in the middle of the night without warning!
Sue started her aviation career managing the VIP handling for Biggin Hill Airport, looking after the passengers, pilots & aircraft. After twelve years she moved into the aircraft charter business, as Commercial Manager for first GoldAir and then Xjet.
She has been with RotorMotion as Operations Manager since 2002 and our high level of repeat bookings is frequently due to the professional yet friendly way she handles telephone inquiries.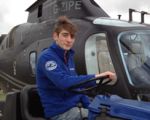 Declan first came to us during school holidays on a work experience visit. He was later hired full time to drive these 4 million Euro helicopters in and out of the hangar by tractor and he keeps them spotlessly clean. Subsequently, he has trained very effectively to help in Operations and is now nominated to the new position of Safety Management Systems [SMS] Manager.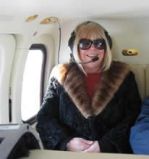 Sally joined RotorMotion five years ago after working at Marcos Aviation at Biggin Hill. She is responsible for the accounts, but also plays a big part in assisting the operations team.
Now celebrating its 15th year of flying, RotorMotion is Britain's favourite boutique helicopter charter business. We offer a personal, friendly and highly professional service, are staffed 24 hours a day and aim always to return a quote for your trip within an hour.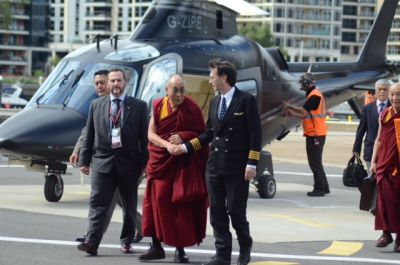 • Swift and stylish.
We fly Agusta 109's, the fastest helicopters available for hire, featuring club seating for up to 6 passengers, air conditioning and of course a complimentary champagne bar. RotorMotion has the largest fleet of Agusta 109's in the UK - and probably Europe - offering you the most luxurious and speedy way to travel.
• Make your day count.
Whether it's the races or polo, a meal in a country house hotel, or a trip to Paris, what better way to entertain clients and friends than a flight with RotorMotion in an Agusta 109?
• Time Travel.
Using these fast, reliable machines for executive charter, you can visit multiple sites in one day, avoid congested roads in our flying boardroom and with our facing club seats hold meetings on board while en route. It's an efficient and inspiring way to do business!
Based just south of London, we are perfectly placed to service the Capital's helipads at Battersea and Vanguard, as well as the major airfields at Heathrow, Gatwick, Luton, Stansted, Northolt, Biggin Hill and Farnborough. Our normal range includes Wales, Ireland, Scotland and the near Continent capitals of Paris, Brussels and Amsterdam.
Finally, our operations team, led by Sue Spencer, is on call to advise on landing sites, quotes and to help make flying with us an enjoyable experience.
Call now to book a flight!
Philip Louis Amadeus
MD